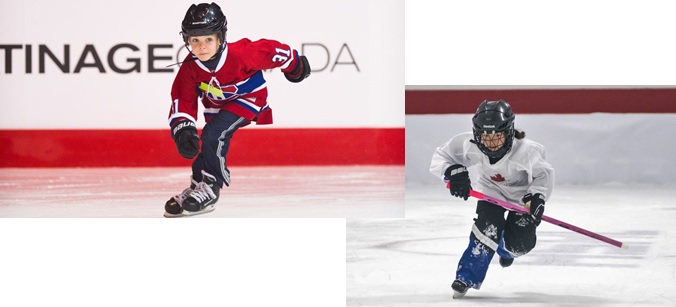 Hockey CanSkate FUNdamentals REGISTER NOW
CanSkate is endorsed by Hockey Canada as the National Learn to Skate program, and our new Hockey CanSkate FUNdamentals is a fun, energetic skating program designed to enhance the skating skills needed for both hockey and ringette players in the Learn to Train stage of development.
More and more professional figure skaters are becoming the coaches to the pros because of their strong technique based background. Skaters will learn valuable stride technique as well as stopping, turning, edges and crosscuts. Skaters will do a warm-up led by a Skate Canada NCCP professional coach with high-energy, rotate through technique-driven teaching stations, as well as a full ice group activity and cool down.
This new session is a pre Power type program and has been designed to focus on the development of basic skills, divided into three fundamental areas: Balance, Control and Agility. Recognizing that skating is a foundational skill, this program allows for the opportunity to focus on skating outside of the game or practice. It is designed to allow flexibility for progression or an increase in intensity as needed, to cater to the level of skaters in the program.
All skaters will be evaluated on the first day to make sure that the skater is in the appropriate program. If they do not meet the standards, we will address it and place the child where it best suits their needs to develop as a skater.
Participants will be assessed based on a range of progressions that will indicate skills at an early, moderate or advanced stage of development. Teaching and developing the proper skating technique is the main focus of this program. It is important to recognize that while this is still a CanSkate delivered program, it is not a learn to skate program. All Hockey CanSkate FUNdamentals skaters must have achieved Stage 2 of the CanSkate program as a pre-requisite (or equivalent). We have customized our CanSkate to a type of "Pre-Power" type programming for those who are interested.
Helmets are required. Hockey/ringette equipment is strongly recommended. Sticks may be used when the coach determines skaters are ready but are not required. Your skater will be taught by Skate Canada NCCP certified Professional Coaches who have additional training in CanPowerSkate.